Revealing the face to the sunken cities once more.
A sizeable part of the work consisted of establishing detailed maps of the sunken sites, which would then enable archaeologists to precisely locate the remains under water and to decide where to direct and organize diving and excavation there. Charts also serve to reconstruct the appearance of these ancient cities: the contours of the land, the course of the canals, the infrastructure, and the position of the monuments.
In order to accomplish this, the team disposed of the most sophisticated electronic equipment, such as nuclear magnetic resonance magnetometers developed in 1990 by the French Atomic Energy Commission (CEA). These devices of extreme sensitivity can detect any kind of submerged object, even buried under layers of sediment.
The survey area was defined after extended archival study of ancient texts. Aboukir Bay, which conceals the two towns of Canopus and Thonis Heracleion, spreads over some 10 by 11 km, a total surface of more than 110 km2! Alongside the excavation campaigns, research, prospecting and geological studies continue every year to fine-tune the charts of the submerged territories.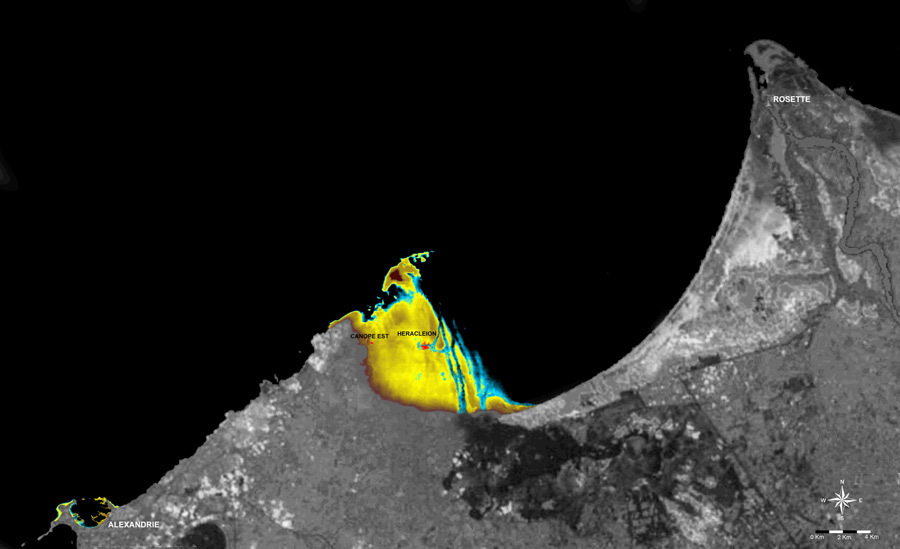 Satellite view of Alexandria and the Canopic region.The location of the archaeological sites of Thonis-Heracleion and Canopus in the Aboukir Bay. The deepest parts of the submerged Canopic region are shown in green, changing to dark yellow near the current coastline, and brighter for the shallowest remains lying just under the surface of the water surface. Altogether over 110 km2 sank beneath the waves.
More on: www.ieasm.org.